ALL SESSIONS ARE FILLED. Please email me if youd like to be put on the waiting list for cancelations.
YAY 4th of July Mini Sessions are here!!! Im so excited about the 2 sets I will have ready for your little one(s)!!
There is a very limited number of slots (13 to be exact)… so dont hesitate if you want one, they go FAST!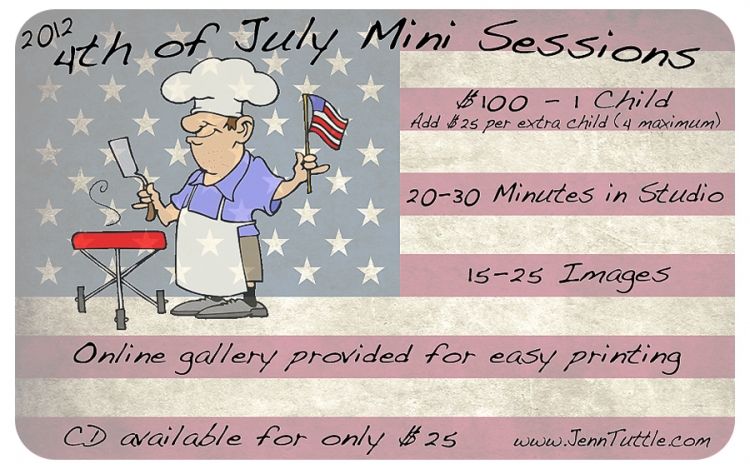 These sessions are for the holiday theme ONLY… so feel free to bring 2 outfits that will go with the theme. I will have red white and blue ruffle rompers and petti skits for the girls. Boys are best in jeans and a shirt or no shirt

Email me at Jenn@mejenn.com with the day and time you want. Emails will be taken in the order that they are received in. Dont forget your name.

June 15th:
4pm- Crystal Johnson
June 20th:
2pm- Suzy Leanos
4pm- Melissa Rosbrugh
June 21st:
11am- Randi Newton
2pm- Rachael Egelhoff
4pm- Nuria Drum
June 22nd:
11am- Sheri Dayov
June 27th:
2pm- Lisa Fogerty
4pm- Amy King
June 28th:
11am- Courtney Miller
2pm- Danielle Collett
July 3rd:
12am- Janaea Nydam
2pm- Kourtney Stretch